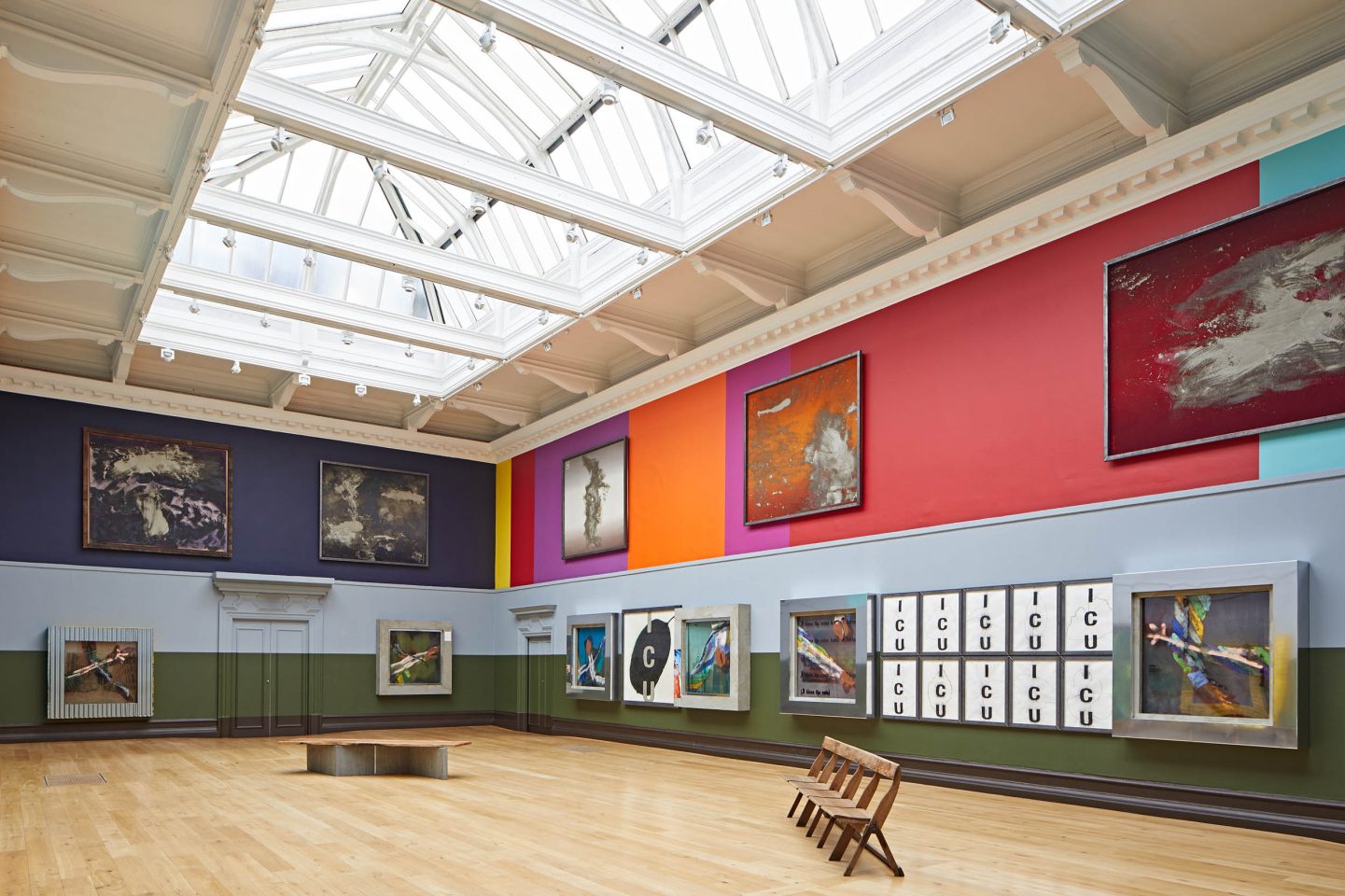 For his first solo exhibition in a UK institution, Alvaro Barrington presents a new body of works, in a bespoke installation responding to the architecture of the SLG's main exhibition space. The central concept of the show is that of a relatively near future in which Augmented and Virtual Reality have evolved to the point that people routinely choose which identity or character to adopt in different social and other situations, with digital and real life becoming completely intertwined. Paintings integrating printed and digitally rendered elements merge Peppa Pig from the children's cartoon with Napoleon and other pigs from Orwell's Animal Farm, and Anansi the Spider from the African folktale with Louise Bourgeois's bronze spider sculptures. Another series of works made from concrete smeared on dyed Hermès blankets is hung high up on the walls in reference to cloud paintings, continuing Barrington's relentless play on connections between diverse historic and contemporary cultural references.
BIOGRAPHY
Alvaro Barrington (b. 1983 Caracas, Venezuela) is the child of Grenadian and Haitian migrant workers and was raised between the Caribbean and New York. Barrington's practice explores interconnected histories of cultural production. Considering himself primarily a painter, his multimedia approach to image-making employs burlap (hessian), textiles, postcards, clothing and cast concrete, exploring how such diverse materials can function as visual tools while referencing personal, political and commercial histories. Through this confluence of materials and subject, Barrington engages histories of music and painting associated with the Caribbean, the socio-political context of his childhood in 1980s New York, and London where he is currently based.
Recent exhibitions include MoMA PS1, Queens (2017); A Taste of Chocolate at Thaddaeus Ropac, London (2018); an ongoing Tt x AB collaboration with the painter Teresa Farrell; co-curation with Julia Peyton-Jones of the exhibition Artists I Steal From at Thaddaeus Ropac, London (2019); Galerie Thaddeus Ropac, Paris (2021 and 2018); Corvi-Mora, London (2020); Sadie Coles HQ, London (2021 and 2019); Emalin, London (2019 and 2018).
Please note the exhibition will be closed from 5pm – 7pm on Wednesday 17 November before re-opening for a talk with the artist. You can book a ticket to the talk here.