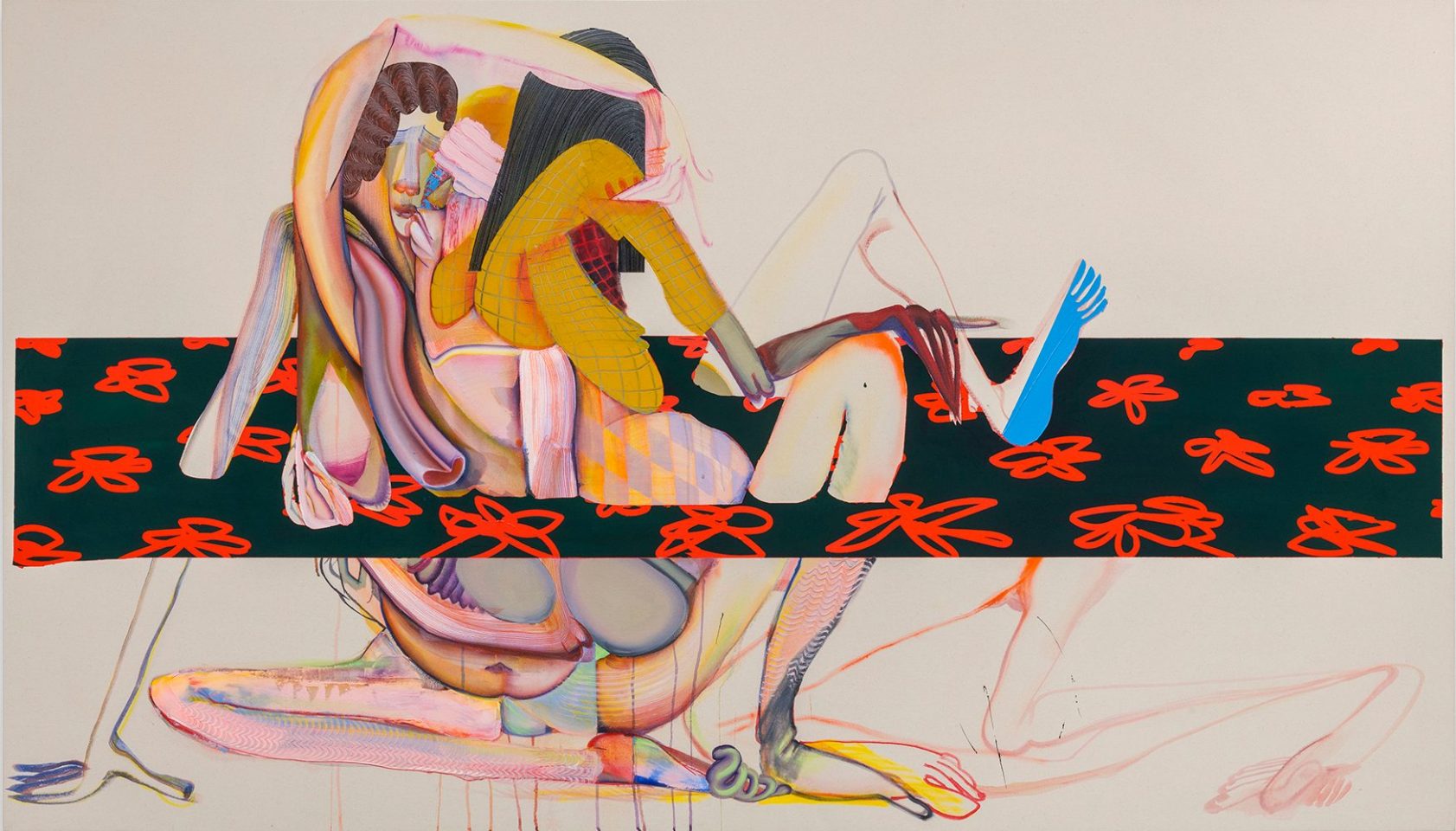 Free exhibition
Main Gallery
American artist Christina Quarles (b. 1985) lives and works in Los Angeles.
She creates surreal and deliberately ambiguous images of bodies that seem barely contained by the frame of the canvas. This display at the South London Gallery brings together Quarles's vibrant and textured paintings, as well as works on paper, and is her first solo exhibition in a major London institution.
The figures in Quarles's expressive, large-scale paintings are an embodiment of her own perspective on the world and she has described them as conveying 'the experience of living in a body rather than looking at a body.' Entwined bodies are set against abstracted environments, facial features are obscured and skin is rendered in a spectrum of shifting colour. These painted figures elude definition in reference to Quarles' own experience as a queer cis multiracial woman, who is often presumed to be white despite having a black father and white mother.
Eight of Quarles's paintings including For a Flaw/ For a Fall/ For the End, 2018 and Sumday (We Gunna Rest on) Sunday, 2019 are on display in the SLG's Main Gallery alongside a selection of the artist's drawings. In these works on paper, fragments of text often taken from songs or poems intersect with bodies and reveal some of the literary, musical and autobiographical references that underpin her work.
Please note these paintings contain nudity.
BIOGRAPHY
Christina Quarles (b. 1985 Chicago, USA) currently lives and works in Los Angeles. She received an MFA from the Yale School of Art in 2016, and holds a BA from Hampshire College. Quarles was a 2016 participant at the Skowhegan School for Painting and Sculpture and was the inaugural recipient of the 2019 Pérez Art Museum Miami Prize.
Recent exhibitions include: Christina Quarles, MCA Chicago (2021); Dance by tha Light of tha Moon, X Museum, Bejing (2021); I Won't Fear Tumbling or Falling / If We'll be Joined in Another World, Pilar Corrias, London (2020); But I Woke Jus' Tha Same, Regen Projects, Los Angeles (2019) among others.
ACCESS
The space is well lit with low noise.
There is seating available.
A large print exhibition guide is available.
Ear plugs, ear defenders, magnifying glasses and wheelchairs are all available.