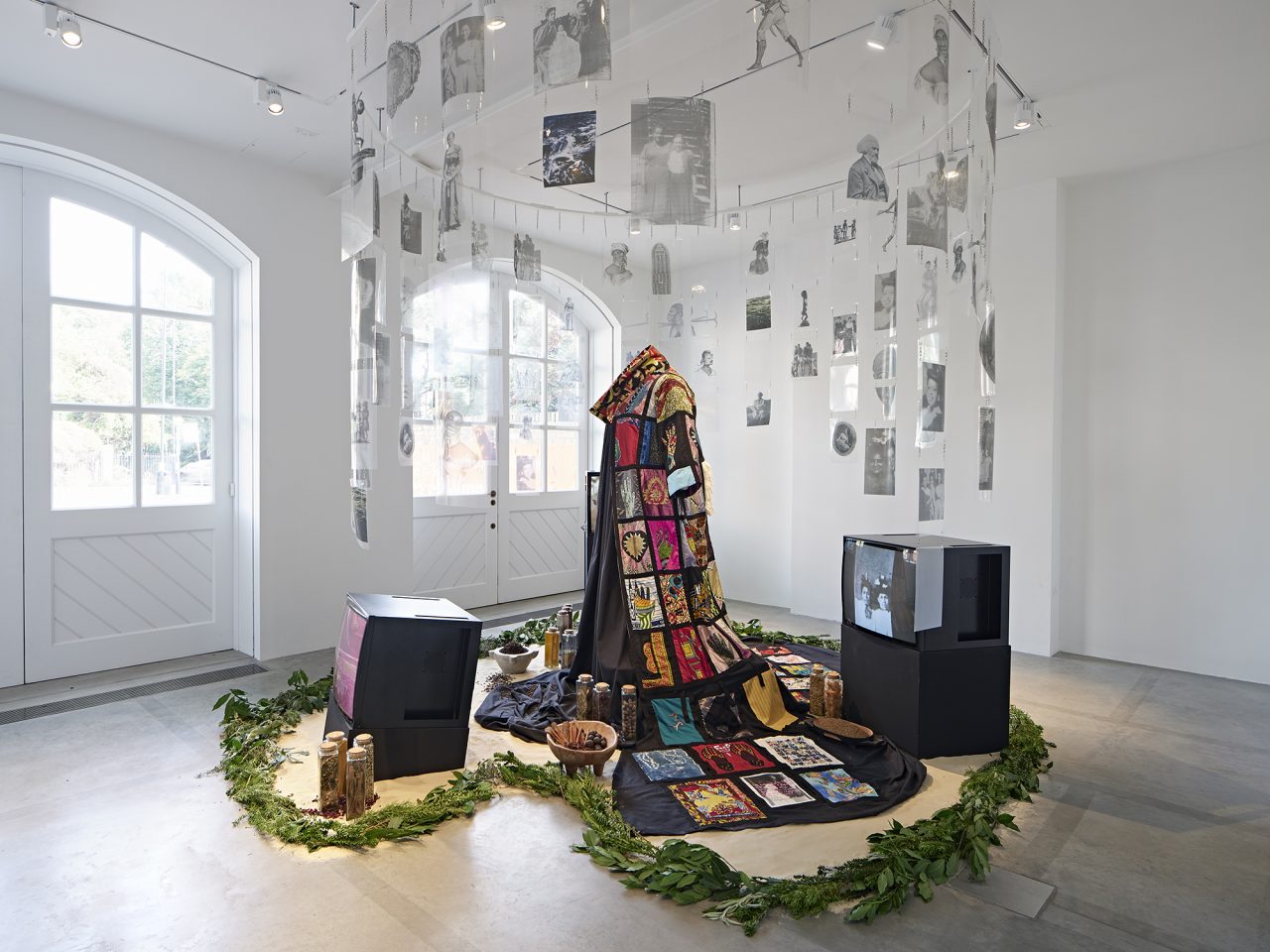 Free exhibition
Fire Station Galleries
Rita Keegan's first solo exhibition in more than fifteen years features artworks that reflect the intersection of new media experimentation, feminist practice and the Black Arts Movement of the 1980s.
Combining digital animation, textiles, painting and copy art with experiential media such as scent, Keegan's tactile practice grapples with the elusive and enduring powers of memory, often drawing on her extensive family archive: a photographic record of a Black middle-class Canadian family from the 1880s to present day. With these images, Keegan charts the politics of dress, adornment and self-definition, bringing this personal history to bear on self-portraits and conceptual clothing that create affirmative and complex representations of Black female identity. As Keegan articulated in a 1987 interview; 'What else do we have? We have no property, no money, no bodies of our own. We have to work from ourselves and speaking from my own experience it is not easy for large, Black, women to celebrate ourselves!'
Alongside paintings and copy art collages – some never previously exhibited – will be a new mixed-media installation revisiting the work Cycles (1992) originally presented at the Bluecoat, Liverpool as part of Trophies of Empire curated by Keith Piper. Keegan describes Cycles as an attempt to 'personalise issues of the African diaspora', collaging family photographs with historical images relating to the enslavement of African people, and embedding this material within an installation of spices such as turmeric and cumin, mounds of sand, tar-stained shipping ropes and wax print fabric designed by Europeans for the African market. At the heart of Keegan's reimagining, will be a Social Fabric constructed from A4 patchworks donated by a global network of friends, family and collaborators. This collectively crafted textile makes material the many threads of Keegan's kinship relations, while also calling for more communal understandings of art-making and identity, as Keegan acknowledges: 'I'm made of many places, people and things.'
The importance of family histories is explored further in a presentation of paintings by Keegan's uncle Keith Simon (1922 – 2013), a contributor to the Harlem Renaissance who lived in London from 1952-1972 and exhibited widely, including the Lawrence Alloway curated, Collages and Objects, Institute of Contemporary Arts (1954) and Caribbean Artists in England, Commonwealth Art Gallery (1971), with artists Aubrey Williams, Ronald Moody, Althea McNish and Errol Lloyd. Simon's estate is managed and cared for by his niece, artist Lorraine Brooks, described by Keegan as 'the family historian' and partner Jana Michele King. For this exhibition, Simon's paintings are presented alongside archival ephemera, poetry and a new short film produced by Brooks contextualising his life and work.
This exhibition is curated by the Rita Keegan Archive Project, a social history and curatorial collective that seeks to preserve, exhibit, and share the collections of the artist Rita Keegan. Its members include Ego Ahaiwe Sowinski, Dominique Zenani Barron, Lauren Craig, Gina Nembhard and Naomi Pearce. The Rita Keegan Archive Project is funded by the National Lottery Heritage Fund.
As part of the Rita Keegan Archive Project, a new essay collection and archival sourcebook, Mirror Reflecting Darkly – containing a range of essays, artworks and rare archival material, edited by Rita Keegan, Matthew Harle and Ego Ahaiwe Sowinski – will be published by Goldsmiths Press on 1 September 2021.
Follow us on social media or join our mailing list to receive our monthly newsletters for further information and updates.