During summer 2020, the South London Gallery worked with Resonance FM to create a 24-hour radio broadcast for and in collaboration with residents living on Elmington, Pelican and Sceaux Gardens estates.
The final schedule featured a combination of pre-recorded programmes and content broadcast live from the Elmington, Pelican and Sceaux Gardens estates. Following a period of lockdown and social distancing, the idea for Bank Holiday Broadcast came at a time of relearning how to continue our work together.
After a call for contributions, residents created radio shows, live on the estates, from their homes, over the phone and by visiting a socially distanced radio studio set up in SLG's Art Block space at the bottom of Lakanal House, Sceaux Gardens Estate.
The schedule, broadcast on Monday 31 August 2020, acknowledges the significance of the culture and creativity within everyday life, as well as the community spirit that has endured across these three neighbourhoods throughout lockdown and beyond.
LISTEN AGAIN
Check out the full programme below!
00:00 – 24 Bells for The Radio
Sceaux Gardens resident and artist James Jessiman takes a night walk to document his 24 sound sculptures in locations across Elmington, Pelican and Sceaux Gardens estates. Each sculpture features a bell representing one hour of the broadcast and will be heard on the hour every hour throughout the day. Hours 11:00, 15:00 and 19:00 were rung live.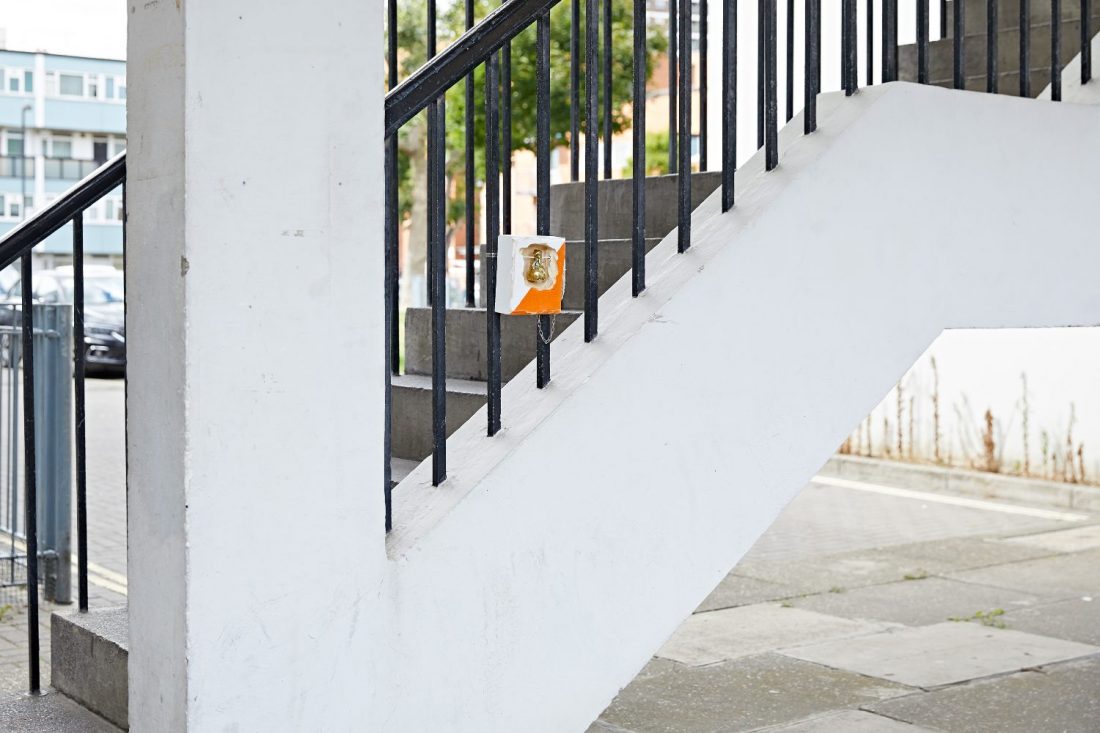 01:00 – Carl's Prosperity Hour
Carl Tulloch from Pelican Estate shares his tips for making money in the current jobs climate, as well as his advice for developing a positive and prosperous outlook. This is accompanied by some of his favourite seventies soul records.
02:00 – NIGHT SHIFT POLITICS WITH NANA BOAKYE
Part-time private hire driver and full-time law student Nana Boakye discusses navigating through London in the current climate with Jack James, Residents' Programme Manager. They discuss the impact of the congestion charge on hybrid, plugin-hybrid and electric cars, the theft of catalytic converters and more.
03:00 – Cosmic Music
Sceaux Gardens resident James Jessiman shares his story of unexpected friendship that blossomed during lockdown after he received a call from his local mutual aid group. Swapping shopping lists eventually developed into sharing art and music, James plays an abridged version of one resident's spiritual jazz collection.
05:00 – Pelican Island Discs
Sophia Hill invited neighbours on Pelican Estate to send her songs and voice notes to create an eclectic and moving collection of music and thoughts.
06:00 – Sunrise with Angelica Teuta
Angelica Teuta hosted her project Emotional Architecture on the Pelican Estate in summer 2018. She returns for a remote radio broadcast of uplifting music and messages to bring in the day sent from her home in Medellin, Columbia.
08:00 – 11th Floor Trombone
Who is the trombone player whose rehearsals can be heard from across Sceaux Gardens Estate? Residents' Programme Coordinator Samantha Lippett meets Caelan Ho for a special performance from the eleventh floor of the Marie Curie block.
08:30 – Mini Stories
Residents' Programme Assistant Jahzel Marshall presents Mini Stories with Art Block attendees Nefemi Dada and Raiyah Duncan. Mini Stories packs designed by illustrator Aleesha Nandhra were distributed locally during lockdown, inviting children to write and draw their own stories using illustrated cards for inspiration.
 09:00 – Breakfast Show with Harold Offeh (LIVE)
Harold Offeh hosts Bank Holiday Broadcast's breakfast show live from South London Gallery's Art Block studio on Sceaux Gardens Estate. Harold identifies common themes over the 24-hour programme including cultural healing, community and mutual aid which are explored through conversations with local residents: Val Feen, David Lewis, John McGrath, Roxanne Osmanand Samantha Lippet and Jahzel Marshall, both in person and over the phone. These discussions are interspersed with contemporary jazz selected by Harold and a special pre-recorded segment from local resident Stallion, whose joyful singing can often be heard across the Sceaux Gardens Estate. The show concludes with a special shout out to Elmington resident Maame whose tenth birthday coincides with the day of the broadcast.
The breakfast show poignantly features an abridged version of M. NourbeSe Philips' essay 'Caribana: African Roots & Continuities, Race Space and the Poetics of Moving' read by artist Barby Asante and friends. At a time when the COVID-19 pandemic takes Notting Hill Carnival off the streets, this reading celebrates the enduring history of carnival as a living practice of resistance and joy. It also reflects upon the current over policing of Black people in London and across the UK.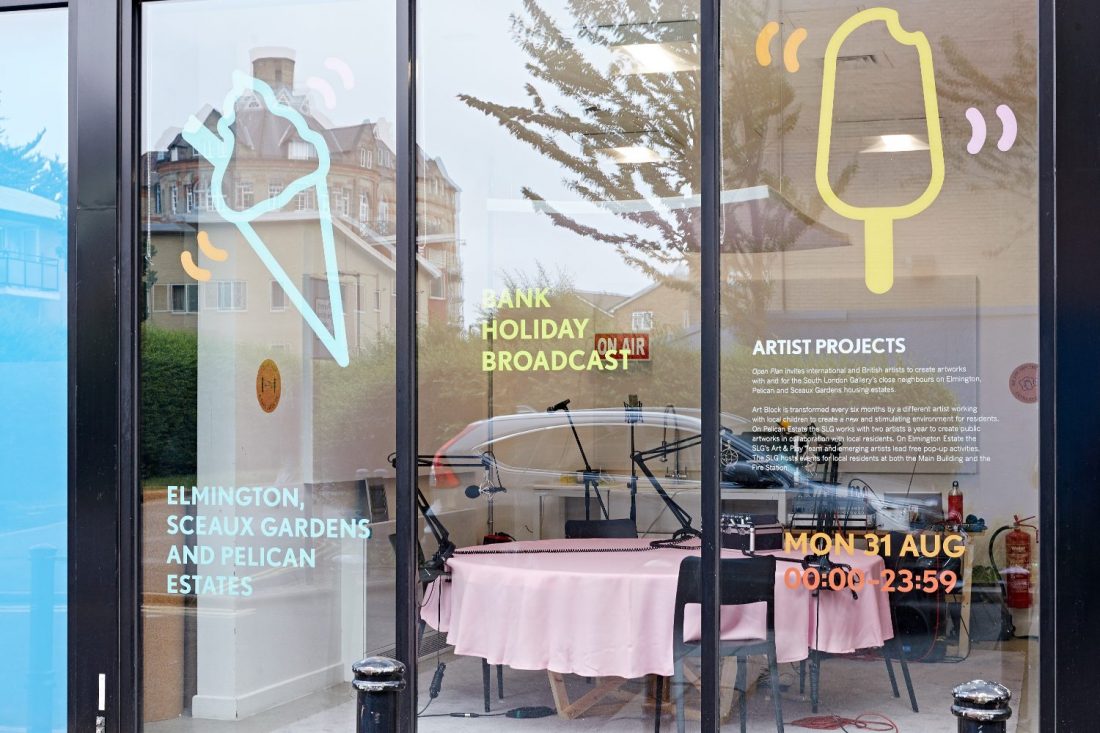 12:00 – Liz in Mistral Garden
A portrait of Sceaux Gardens resident Liz Sidthorpe. Liz tells the story of moving to Camberwell at the age of 60, how she came to love life on the estate, her work in South African townships and why her adopted cat Albert makes such peculiar noises. Liz also introduces us to the plants and animals in the beautiful 'secret' garden she and her neighbours have created here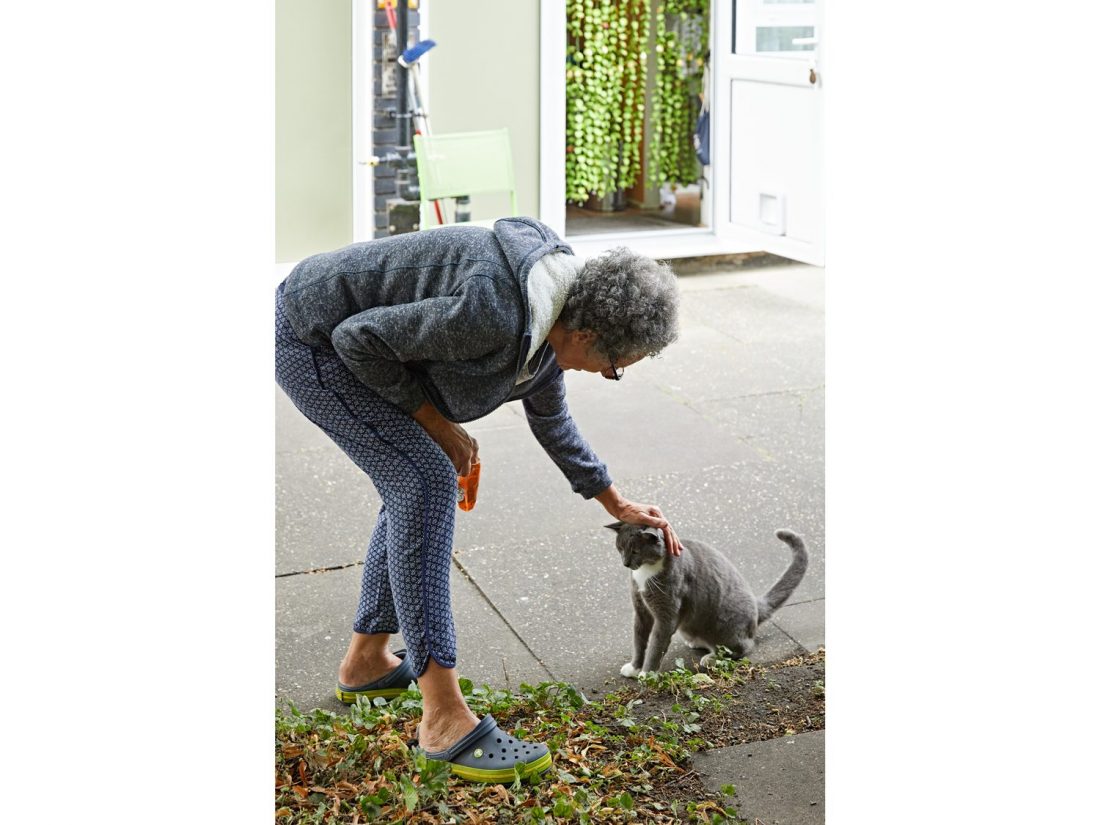 13:00 – Jasmine x Panic Attack Duo
Local resident Jasmine Lutterodt is reunited with the Panicattack Duo (Naz Balkaya and Emily Demetriou) for a catch up following their unexpected collaboration in 2018. A regular visitor of the gallery, Jasmine joined the duo every weekend as part of their durational performance work Nothing Really Mattress, exhibited as part of Bloomberg New Contemporaries at the South London Gallery.
13:30 – Anyone Can Make Music
Luis Silva Navarro from Theatre Peckham is joined by the Harding siblings and regular Art Block attendees Ruvey, Reon and Sienna. Together they combine their own lyrics and beats to create the track I Don't Know.
14:00 – Elmington Stories (LIVE)
A live broadcast from the Elmington Estate of John Macedo's new sound work created after a five-month long collaboration with local children. The hour begins with a collective listening to the work from car stereos and follows with an unrehearsed response with project participants and passers-by led by John and Residents' Programme Coordinator, Samantha Lippett.
Elmington Stories aimed to connect different generations in the area: adults were invited to be interviewed by the children and share memories of their own childhoods on the estate and offer advice to future generations. Stories were inspired by prompt cards designed by the children and are featured as part of the broadcast, as well as a live performance in which the sonic possibilities of the playground are explored using beaters, sticks and contact mics. The broadcast concludes with a visit from the local ice-cream truck; a regular feature at the workshops on the Elmington Estate.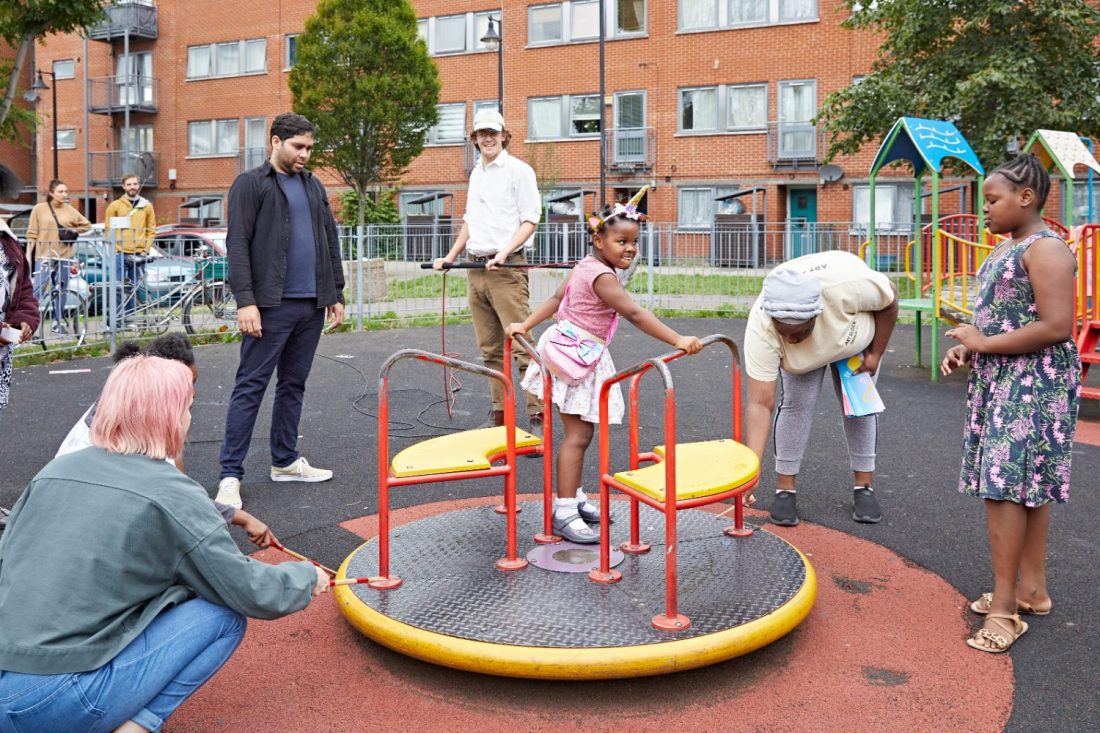 15:00 – High-rise Rat by Holly Atkinson
A lock down story like no other. One rat. One flat. Two terrified south Londoners. High-rise Rat follows the hilarious story of Holly and Tom in lockdown with nowhere to run, as an uninvited furry friend takes over their world.
Southhampton Way residents Holly Atkinson and Tom Chaplin play themselves and are joined by the South London Gallery staff Rachael Harlow as 'Ratcatcher', Lily Tonge as 'Council', Paul Crook as 'Dad' and Jonty Bromley who provides sound effects.
16:00 – Nawaz's Beats
Resident Nawaz Henry shares his discovery of making music and beats. He is joined by his dad and Luis Silva Navarro from Theatre Peckham whose workshops were where it all started.
17:00 – Zakia Mohamadi in conversation with Harold Offeh
Resident Zakia Mohamadi and artist Harold Offeh discuss the impact of COVID-19, poverty and the mental health and wellbeing of the community of Sceaux Gardens Estate. Zakia shares her personal history and examines how she has found optimism and inspiration during this most difficult of periods.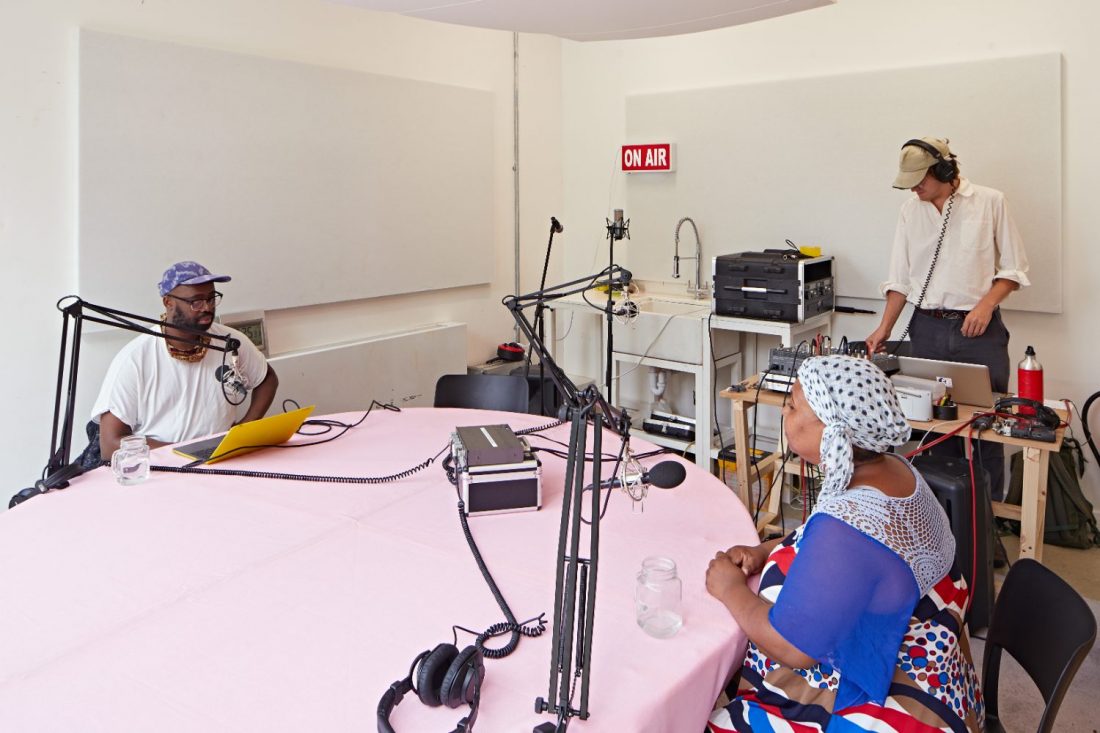 18:00 – Pelican Plus Tenants & Residents' Association (LIVE DJ SET)
Chair of the Pelican Plus Tenants & Residents' Association Dario Jade Blake and collaborator Dominic Clementine perform a live afrobeat DJ set in celebration of Notting Hill Carnival from outside the Pelican Plus Tenants' Hall under Crane House on Pelican Estate.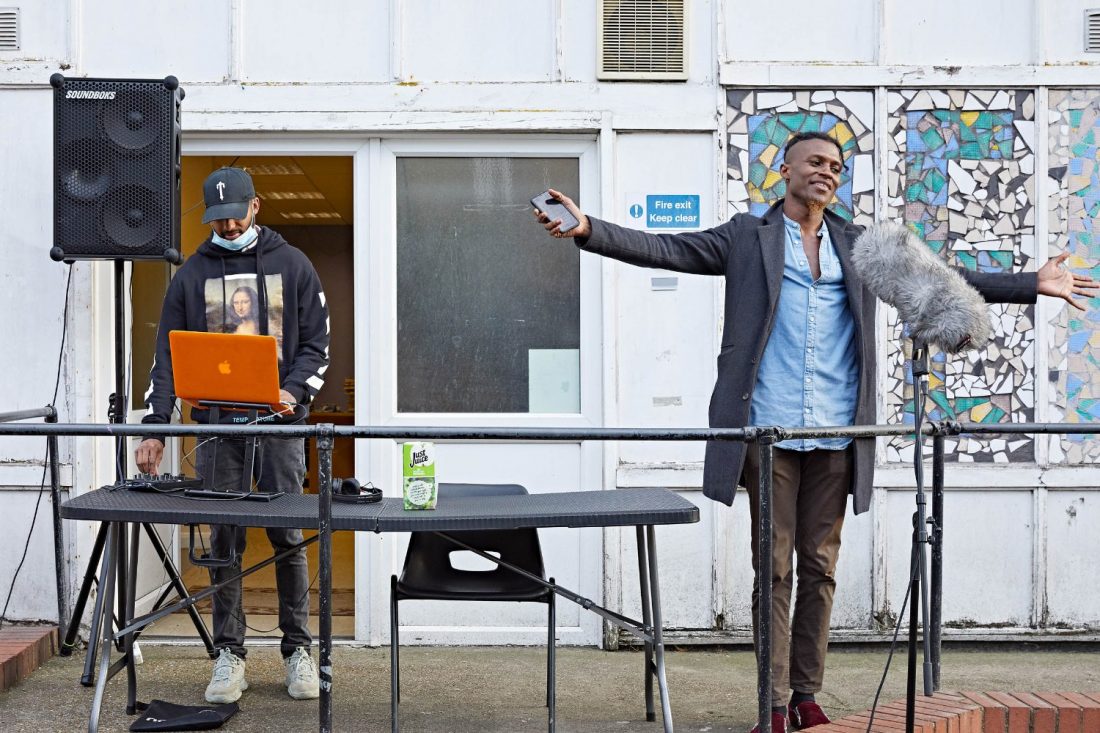 19:30 – Sound Capsule / Sonic Monument 
Sound Capsule / Sonic Monument is a mobile sculpture and recording booth by artist Mai Omer. This radio show documents the recordings from three workshops on Elmington, Pelican and Sceaux Gardens estates where children shared stories about the landscape of play and the changes to their lives in 2020.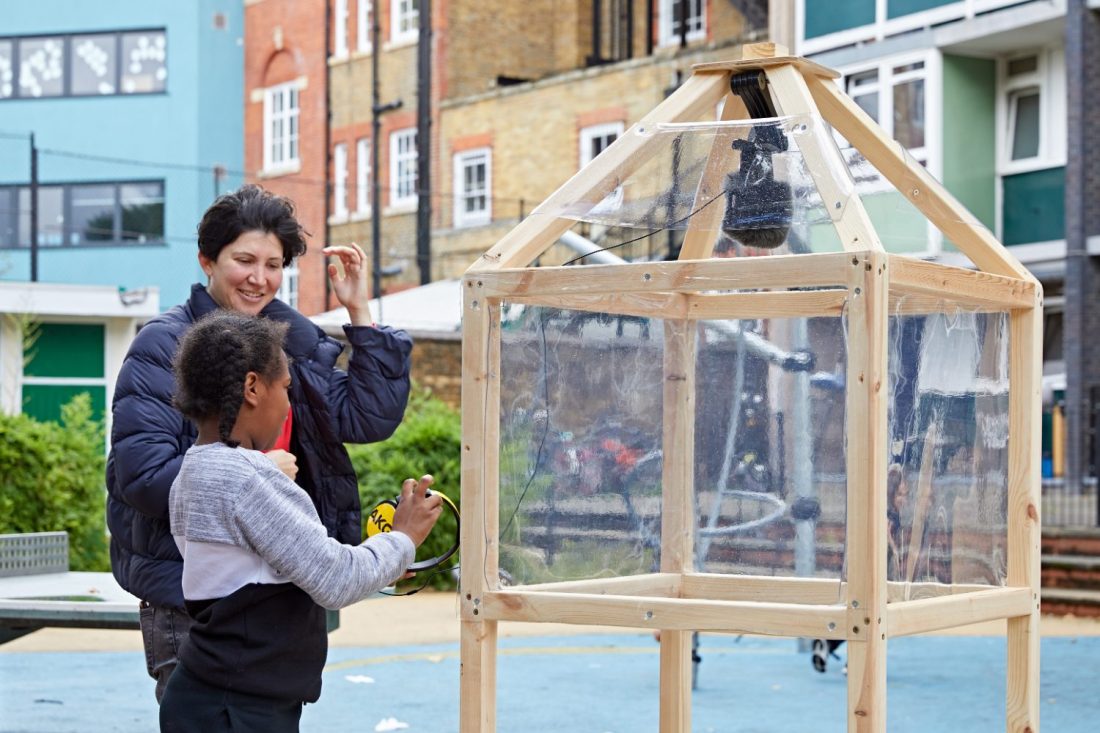 20:00 – Poetry with Karin
Friends Karin Greene and Rachael Harlow discuss the cathartic and uplifting power of poetry. Exploring Karin's love of literature and poetry through her favourite works alongside her own poems, which touch on love, relationships and observation.
20:30 – Daisy PM presents In These Four Walls
 Musician Daisy PM discusses the process of making her new EP in lockdown, In These Four Walls. Recorded entirely from her home in Lakanal House, Sceaux Gardens Estate, the EP features collaborators from around the world. During the show she debuts her new track Green Air live from the Art Block studio.
21:00 – Vera from Elmington
Vera Jones has lived on Elmington Estate for over 65 years. In an interview with another local resident Kamora and her mother, they discuss changes in the area and stories from her own life. This recording took place in autumn 2019 as part of artist John Macedo's project Elmington Stories.
21:30 – Stories of Mutual Aid
Members of the Pelican Plus Tenants & Residents' Association share their experiences of providing mutual aid for their neighbours and discuss their goals and aspirations for the association post lockdown and beyond.
 22:30 – Lockdown Films
 During lockdown Sceaux resident Seb Dykes and his flatmate spent the evenings watching films on their living room projector. Without curtains, they became silent films for their neighbours. Now he shares snippets of the soundtracks for those who might have been watching.
ABOUT
Bank Holiday Broadcast is part of Open Plan, the SLG's long term public art and education project with residents living on Elmington, Pelican and Sceaux Gardens estates.
Open Plan is supported by Freelands Foundation, with additional funds from Southwark Council's Youth and Play Grant Programme, the National Lottery Awards for All and other donors.
Resonance FM is an award-winning south London based community radio station.