Making Sense brings educators, researchers and young people together to explore themes of recovery, inclusion and anti-racism through creative practise and conversation.

Our Digital Platform is a collaborative collection of text, images, videos, podcasts, projects and research relating to the themes explored in Making Sense. This page is always changing and growing, with new content and research being regularly added. We welcome additional content that is relevant, inspiring, educational or informative through the submission page below.
2023 Making Sense Artist Commissions
Making Sense has commissioned four young artists to create new work inspired by themes of inclusion and anti-racism. Ella, Esme, Jordan and Christine have made several new works for the Digital Platform. Explore these below and find out more on the SLG Journal.
'Paving' by Ella Soni
Artist Ella Soni created this work made up of a found paving brick decorated with the word 'paving' in gold leaf and a price sticker from Khan's Bargains in Peckham. They ask 'How can we pave the way towards a more inclusive future?'

'Memory of a Cradle' by Jordan Minga
In trouble, they find me
In calm waters
In slow seas
I drift for days
Not starving, not afraid
Let the wind guide me
Let the wind rush across the world
and lift me with a small sale
I sail through waters unending.
Let life be a river to me
Let life rock and push guide
What I think is my purpose
I am not purposeful with all my actions
But there is a purpose for every single thing I do
In small acts in big moves
I take in and look at the world
Like grand ideas, it is all forming
I'm just making sure I'm present to see it
When it concludes
I grew up in a small cradle
As I grow, my cradle breaks
As I grow, my arms begin to hurt
My legs begin to…
Kicking baby boy
How have you grown here?
Kicking baby boy
How have you grown here?
Hear Jordan Minga performing 'Memory of a Cradle':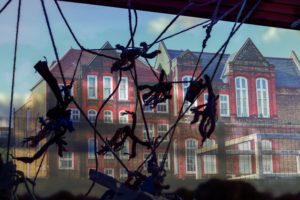 'Bare Your Teeth' by Esme Wedderburn
This work by Esme Wedderburn responds to institutional racism and societal prejudice. The ascent upon the jagged teeth-like landscapes symbolise the isolating nature and challenges of the systematic barriers that marginalised individuals face.
Bare Your Teeth highlights the necessity for defiance and confrontation in dismantling these prejudices by amplifying and upholding the voices of those impacted.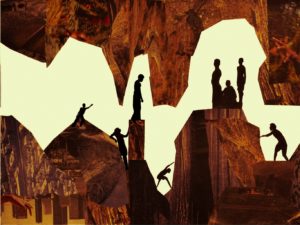 Christine Bramwell
---
'What is Post-Truth?' collages from the Making Sense collective; The Bigger World
Making Sense has led to the formation of an arts collective, The Bigger World, at a secondary school in south east London. Within the collective, students have been using STEAM subjects (science, technology, engineering, arts and mathematics) to explore what it means to live in a post truth world. They made collages during a workshop in response to the question 'what is post truth?'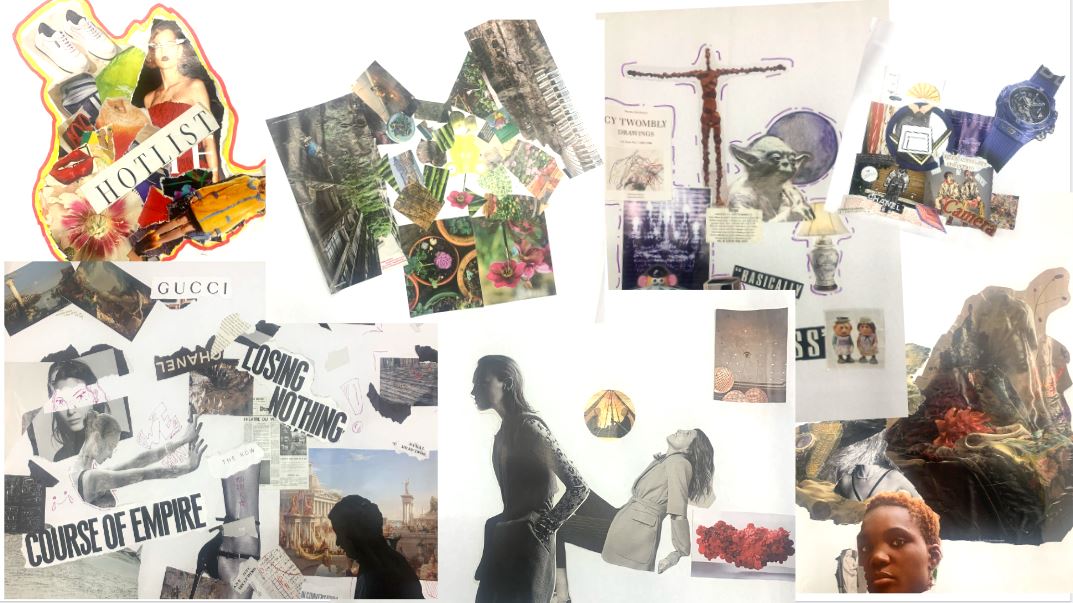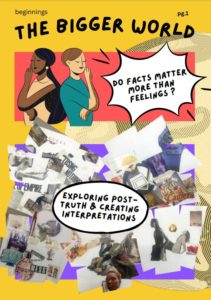 Following the first set of creative sessions at the school, artist Hillary Juma created this comic strip for students to stimulate conversation about the direction of the collective.
This comic strip provides a clear and engaging structure to self exploration and group work, breaking down their creative process. This helped the group bridge the gap between ideas, themes and their understanding of post truth to the final outcome and how the collective and individual identities will be shown within the piece.
POoR Collective: How to make change in your local area
Shawn Adams from POoR Collective spoke to us about how you can positively impact your neighbourhood for a video as part of the Making Sense Clued Up series. Find out about POoR's recent project with young people to create a community mural in South West London and gain some top tips for setting up your own project.
The RSA: How to be an anti-racist educator
RSA education director Laura Partridge is joined by Zahra Bei and Rodeane Henry-Grant, Coalition of Anti-Racist Educators; Sarah Brownsword, lecturer in education, UEA; and Daniel Kebede, senior vice-president, NEU, to share perspectives on what we need now to turn the discourse of anti-racism into the practical, sustained, everyday actions that will be vital to securing a fair education for everyone.
Hauser & Wirth: Painters on Painting
Painters on Painting are exploratory learning events where artists and students engage in a conversation around painting exhibitions at Hauser & Wirth, London. The events aim to bring young voices into the conversation on contemporary painting and artistic processes and the event films are used as learning resources.
Hauser & Wirth Exhibition Teachers' Notes
Hauser & Wirth's free resources are designed to facilitate dialogue and discussions around their artists, exhibitions, and events. Selected exhibitions at Hauser & Wirth are accompanied by  Teacher's Notes or Education Guides exploring key themes and suggested areas for discussion for both the gallery and classroom and at home and can be downloaded online:
Learn about Scotland's South Asian Community
Colourful Heritage capture the stories of early Muslim & South Asian migrants to Scotland. Together with Glasgow Museums they have created a 'Digital School's Resource Pack' to highlight the contribution of Scotland's South Asian community. It provides a unique insight to the British Indian Army in WW1 & 2 and the story of Force K6, Muslim soldiers in Scotland. It also illustrates Scotland's South Asian contribution to entrepreneurship, political participation and Glasgow's multicultural history as well as their migration & identity.
Colourful Heritage's digital timeline charts the history and progress of South Asians and key events in Scotland over the last 100 years or so, from the arrival of Maharajah Duleep Singh in Perthshire to the present day involvement of women in politics.
POWER PORTRAITS
by Harris Girls Academy, East Dulwich
Yr12 artists exploring how power was communicated throughout Western art history. Who was generally seen as powerful? What did they look like? How this was communicated? And can those same methods be used to reimagine and retake such histories.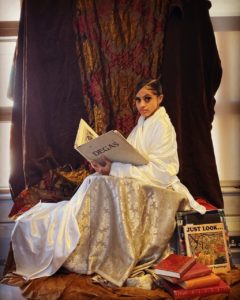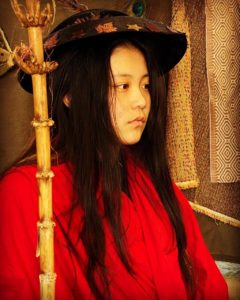 Conversation around cultural capital, Clare Stanhope
This film explores Clare Stanhope's ongoing journey and interrogation of art education and cultural capital. From the fundamental right of every child and young person to explore their creativity, Clare looks at the knowledge, new challenges and gaps in the 'art adventure', as well as the vital contributions art, craft and design as well as cultural capital make to our lives, industry and economy.
Ollie Olanipekun: What does it take to be a creative director?
We spoke to Ollie Olanipekun, founder of flock together and creative agency futur impose. He shared 5 tips and insights about the industry with us as part of the Making Sense Clued Up series. Tune in to hear more about skillsets required for the job, strategy and self-care.
The Black Curriculum Presents: Sounds of Black Britain podcast
Sounds of Black Britain is a podcast where music is used as an educational resource to understand the Black British experience. Cultural powerhouse Julie Adenuga and special guests deep dive into the musical history of Black Britain. This immersive podcast series celebrates the culture and education of Black Britain and the music it has brought us!
UAL: Colonial Bombay
This is a video work by artist and poet Hansika Jethnani made for the launch of the second Decolonising the Arts Curriculum Zine.
i-DJ: BBC 'My Yard' Mix
The BBZ 'My Yard' mix is a collection of sounds that speaks to the Afropunk generation, the late 80's and 90's babies. This is  a sonic exploration of a space BBZ curated, traveling through each room of the installation and era each room is set.
Girls in Conversation
This fly-on-the-wall community video records groups of young women in conversation with each other. The first gathering is a group of young black women laughing, having fun and discussing relationships, society and where their parents emigrated from, they also attempt to teach each other French and German and dance. The video continues to examine a group of white girls discussing life's issues whilst playing ping-pong. The footage ends with a scene of older women talking to each other and making tea.
Black Power – a British Story of Resistance with director George Amponsah 
BAFTA-nominated documentary film-maker George Amponsah speaks with historian Rosie Wild about hiswork, Black Power: a British Story of Resistance.
The Black Curriculum Report 2021

Decolonization in Action Podcast: What it means to be Black in the Union Jack
Edna Bonhomme and Dr. Christienna Fryar discuss the history of Britain and the Caribbean and what it means to be teaching 500 years of Black British history. Recognizing that Black British history has only recently starting to gain institutional support in the British academy, Dr. Fryar puts institutional practices in context, discussing how history departments have for so long separated the colonial history of the British Empire from British domestic history as well as marginalized histories of migration within the UK and intellectual contributions of Black Britons.
UAL: Anita Waithira Israel: Omitted & Making Histories
Anita Waithira Israel is a multi-disciplinary artist, with a focus on photography, painting, and sculpting. Anita uses her photography to challenge negative depictions of race, raise awareness for her community and amplify marginalised voices in society.
UAL: Decolonising the Arts Curriculum
This first Decolonising the Arts Curriculum Zine from UAL was collated and curated by Hansika Jethnani, Lucy Panesar and Rahul Patel. It was printed and published in June 2018.
The zine was (and is) aimed at both students and staff, as a tool for raising awareness and opening up conversations that will allow people to take things further in their creative and pedagogic practices.
To be actively anti-racist means opposing racism and promoting racial tolerance. Racism is real and it is experienced in every school, academy and college in this country. NSEAD holds that art education must not be racist. It is therefore challenging every educator to critically review and revise their curriculum. This checklist is designed to encourage self-reflection with the aim to make our subject actively anti-racist
Decolonization in Action Podcast: Our Histories are not Missing
In this episode Edna Bonhomme is in conversation with Nathalie Anguezomo Mba Bikoro. Mba Bikoro's work analyses processes of power & science fictions in historical archives critically engaging in migrational struggles & colonial memory focusing on queer indigenous and feminist biopolitics.
The Decolonial Podcast: Us, You & The Microaggression Hotline
The Decolonial Podcast is a place for open conversations with BIPOC and allies as we strive to understand the truth of our colonial past and how this intersects with how society functions today. In the pilot episode, meet our co-hosts Natasha & Maya, talk about why they're doing this, and what to expect.
Britishness Project by Harris Girls Academy, East Dulwich 
The Britishness project came about in response to the Governments promotion of British values as being integral to the teaching standards and the drive to embed them in curriculum. This project confronts the need to consider what 'Britishness' means and how that relates to us as a school. The project is a collaboration between yr 8 artists where they work together to recreate the elements of the Union Jack.The blue sections are comprised of dyed fabrics that the students bring from home and therefore imbued with family and cultural associations. The white section is made up of letters written to a refugee and the red section is made up of cultural patterns representative of the artists in the class room. The flag is then used as a back drop to develop more performative elements. The balls of paper are the remnants of a performance create by each class, where strands of newspapers are tied together in one long thread, linking all the artists together, before being coiled up into class balls and exhibited around the flag. This element represents community and how each individual contributes to society through working together. As the strands of paper easily break apart, it also becomes a metaphor for constant work needed to support communities, with the strands needing constant care being tied and re-tied. The project concludes with individual or group performances that take place in front of the flag. The performances are based around spoken work poetry that consider what Britishness means to the young artists.
Decolonising the Arts Curriculum
Dr Amita Nijhawan explores ways to approach decolonising the arts curriculum for a video series as part of Making Sense.
Listen to the SHS Decolonising the Curriculum Podcast Series. Episode 1 explores a brief recent history of the movement, discussing different approaches and criticisms, as an introduction to the Faculty of Social and Historical Sciences' Decolonising the Curriculum Week 2021.
Peckham Platform's artist talk: Kimathi Donkor
Kimathi Donkor, writer and broadcaster Lindsay Johns, Peckham Space Director Emily Druiff and Mark Miller from Tate's Young People's Programmes discuss the development of Kimathi's exhibition "Daddy, I want to be a black artist."
This framework is a response to the 'Barriers' report which was based on the testimony of over 1000 Black teachers about the impact of racism in their workplaces. To address some of the concerns arising from that report, the NEU Executive was made aware of the need to help teachers develop anti-racist approaches in schools and workplaces. After further consultation and a pilot phase, this framework is now ready to help ensure all schools and colleges are just and inclusive for children, young people and staff.
Decolonising the Curriculum with Professor Jeremy Black MBE
Youtuber Bryan Knight explores the topic of decolonising of the curriculum with two students (Almaz Akainyah & Neha) from the University of Exeter and Professor Jeremy Black MBE.
Other useful links for Teachers: