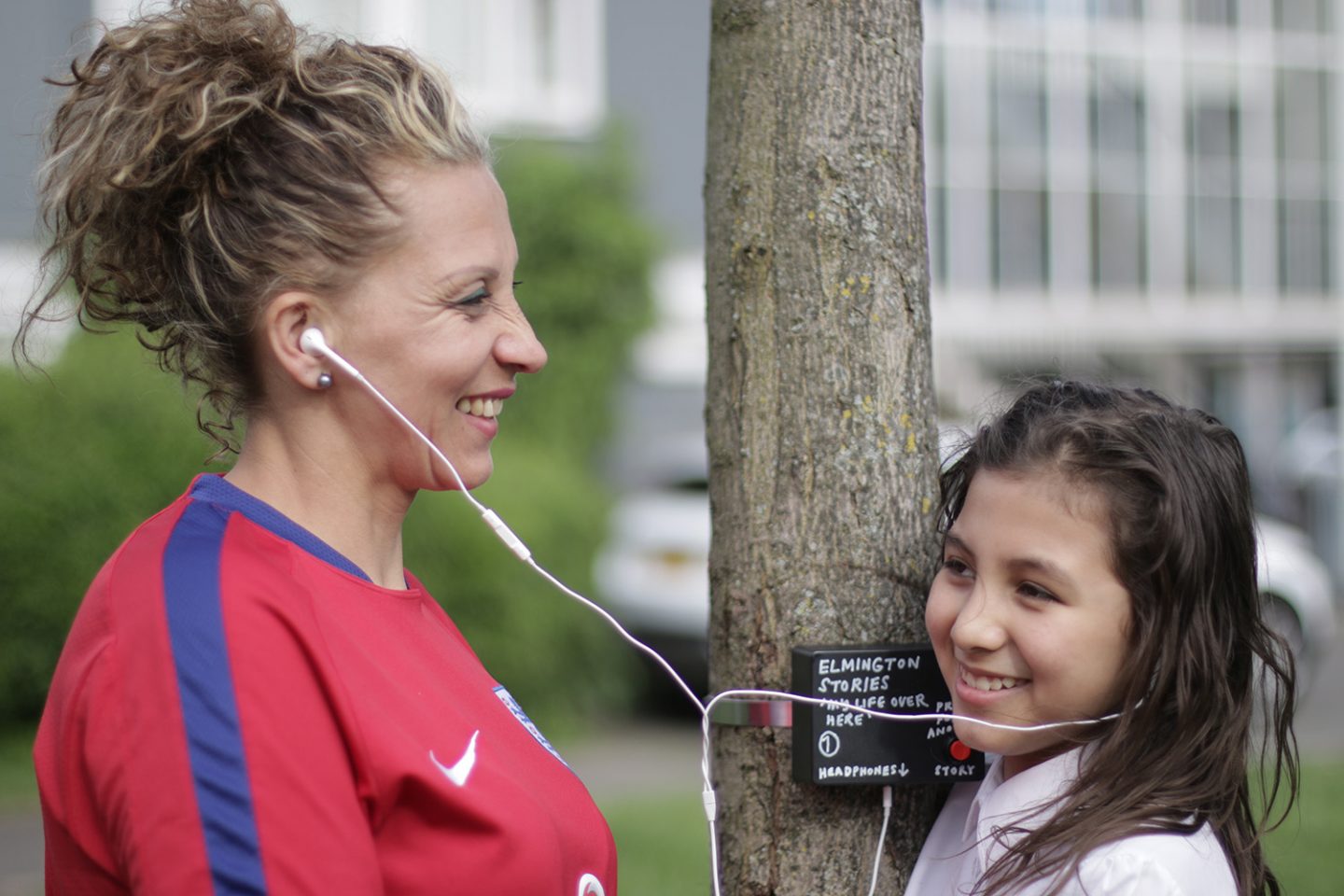 TALKS
11AM
John Macedo, Kaleidoworks and Samantha Lippett
Artists John Macedo and Kaleidoworks discuss their commissions working with children on Elmington Estate as part of Open Plan programme with SLG Art & Play Leader Samantha Lippett. John Macedo is a sound artist from London, whose 2018 commission My Life Over Here used sound to map children's memories and experience of Elmington Estate. Macedo has a pluralistic approach which explores and reveals the hidden potential in sounds, environments and technologies, often in intimate, immersive and intuitive ways. Artist duo Kaleidoworks use experimental moving-image, sound, drawing and installation with diverse community groups to explore community and public space. Films For The Future (2019) is their third film made in collaboration with children on Elmington Estate, and uses green-screen technology  to reflect on the children's thoughts and feelings about their environment, neighbourhood and personal futures
12PM
HERITAGE TOUR: JUDY CUMBERBATCH AND RICHARD GRAY
Join former Youth and Schools Worker Judy Cumberbatch and former Publishing Worker Richard Gray for a conversational walk. The tour departs from the Fire Station Archive, and will focus on the histories of The Bookplace, a community bookshop that operated at 13 Peckham High Street between 1977 and the mid-1990s, and the related Peckham Publishing Project and the Peckham Literacy Centre. Cumberbatch and Gray share their own experiences of the projects' histories, approaches and legacies.
This tour is part of the ongoing SLG Heritage Tours programme. The exhibition Back to The Bookplace is on display in the Archive until 18 Aug.
2PM
Chris Scales in conversation with Phil Polglaze
Chris Scales, Heritage Officer for Southwark Local History Library and Archive, talks to local photographer Phil Polglaze. The discussion focuses on Polglaze's pictures of local community groups based in Peckham in the 1980s and 1990s. Phil Polglaze began his career as a photographer in the 1970s working for New Society and New Statesman magazines. From 1983 to 2004 he was one of the main photographers for Southwark Council covering leisure and culture events, including five years at the Southwark Sparrow newspaper where he recorded key moments in the development of community engagement across the borough. Through recent partnerships with the SLG and Southwark Archives his invaluable photographic record is being digitised and brought to light for the first time.
3PM
Art Assassins Panel Discussion
Art Assassins are the SLG's young people's forum. Together they work with contemporary artists, designers, filmmakers and each other to create a programme of events for other young people and a wider audience. Along with their collaborators they discuss The Peckham Experiment: A Centre for Self-Organisation, a project that ran from 2017-2018 working with the Pioneer Health Foundation (PHF), the Wellcome Library and the Science Gallery at Kings College, as well as Peckham Vision and the Wilderness Wood.
4PM
Art Assassins Book Launch
The Art Assassins launch their new publication following the end of the Heritage Lottery funded project The Peckham Experiment: A Centre for Self-Organisation.
CHILDREN & FAMILIES
11AM – 5PM
HOW TO MAKE A BOOK: ROSALIE SCHWEIKER AND HEIBA LAMARA (OOMK)
Join Rosalie Schweiker and Heiba Lamara of One of My Kind (OOMK) in an all-day workshop revisiting HOW TO MAKE A BOOK, an instructional guide for self-publishing developed by the Peckham Publishing Project in 1978. Together, over the course of the day, Rosalie, Heiba and visitors to the SLG Fire Station  republish the book using the Big Family Press, the SLG's risograph printing press, to produce a new manual for self-publishing in 2019.
2PM – 5PM
THE BIG FAMILY PRESS OPEN PUBLISHING SESSION
Learn how to riso print, share  experiences of life in Peckham and Camberwell, and make a DIY publication for our archive using a range of exciting creative materials. Developed with artists Rhiannon Hunter, Jacob V Joyce, Rudy Loewe, Sofia Niazi, Emily Rand, Shy Bairns and more, use our growing library of locally inspired collage material to make a zine about your life and stories.
Workshops are inclusive and open to children, young people and adults of all ages.
2PM – 4PM
FAMILY PLAY SPACE
The SLG launches a new interactive family play space designed by artist Jemma Egan. Drop in on Sunday afternoons to relax and explore play objects themed around a robot pet dog named Aibo. Sessions are self-directed and open to all, but are designed for children aged 0–5 years.
ON DISPLAY ALL DAY
Discover new perspectives on Peckham and Camberwell in four new free displays specially programmed for the Local History Weekend, open 11am-6pm.