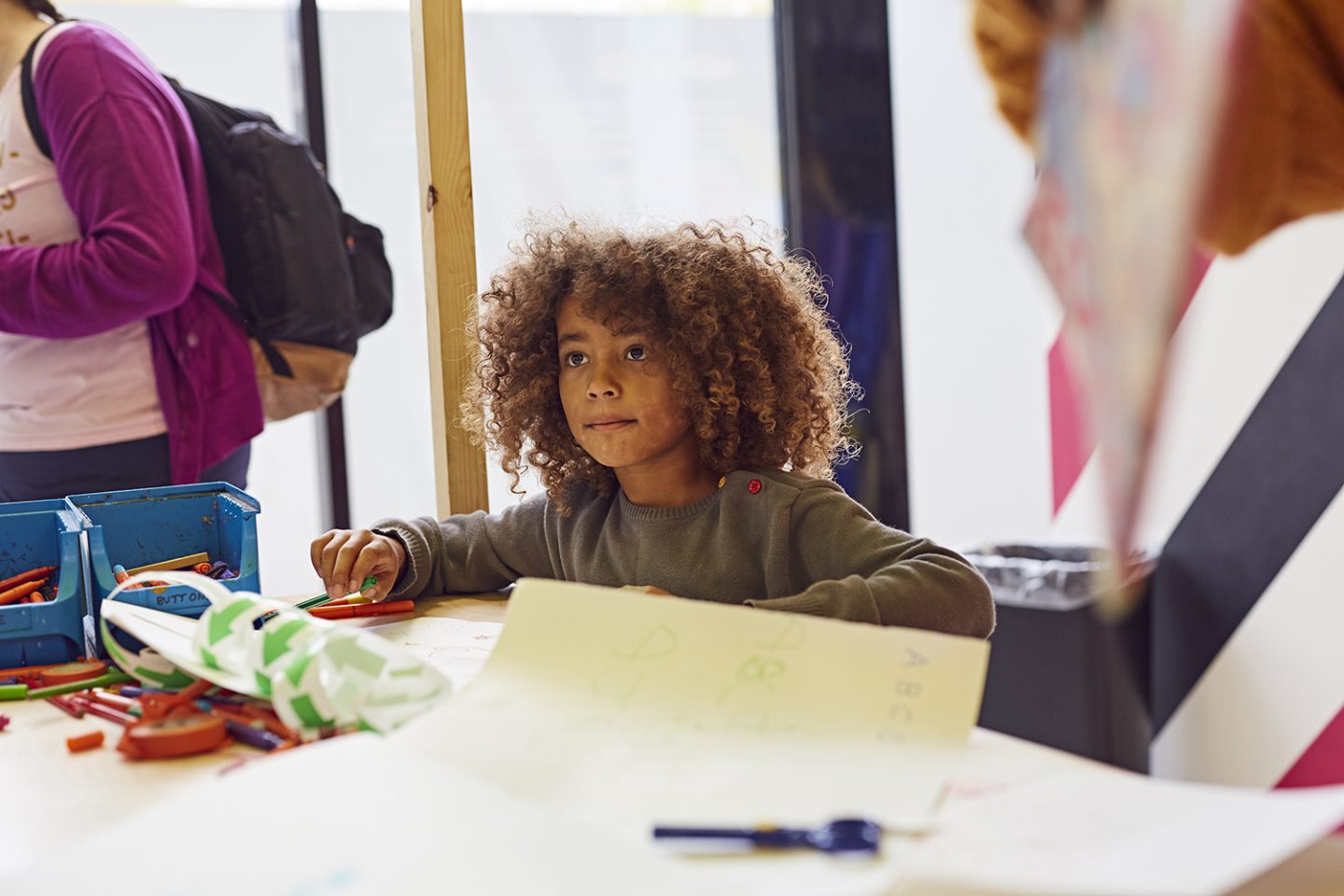 First Floor Galleries & Clore Studio
Sofia Niazi of OOMK will lead a pair of drop-in workshops for children and their families, leading on from their six month residency with The Big Family Press at Oliver Goldsmith Primary School. Using a range of DIY publishing tools, including a risograph printer, the Clore Studio will be transformed into an experimental child-led printing press.
On 4 March participants will be supported to creatively develop and print personal knowledge maps. Over the course of the afternoon, the riso-printed designs will sprawl across the Clore Studio so that we can find links, learn from each other and reflect on what we know, and what we don't.
On 11 March families are invited to design and print striking flags and banners to stake their claim on the neighbourhood. Tell the world about who you are, and what's important to you; take your riso-printed flag on a march through the local area, or install it in the exhibition.
Sunday Spot is an ongoing series of free, drop-in family activities which takes place every Sunday from 2-4pm, suitable for children aged 3-12 years. All sessions are inclusive, for more information on access to the gallery please read here.
BIOGRAPHIES
One of My Kind (OOMK) is a collaborative publishing practice led by Rose Nordin, Sofia Niazi and Heiba Lamara. Working together since 2014, OOMK make, publish and distribute books and printed works which arise from self-initiated projects. OOMK also commission new works by women artists and co-curate DIY Cultures, one of the UK's largest annual independent publishing fairs. With a focus on self-publishing and education, OOMK founded and run a community risograph printing press in East London, Rabbits Road Press. OOMK have been in residency at Oliver Goldsmith Primary School since September 2017 as part of the South London Gallery's Evidence of Us programme.
Sofia Niazi is an artist and illustrator working and living in London. She completed an MA in illustration at Kingston University. As part of OOMK, she currently runs a community risograph print studio in Newham, Rabbits Road Press, with studio mates Rose Nordin and Heiba Lamara. She employs various digital and hand drawn techniques in her work and explores themes relating to technology, politics and animals.
The Big Family Press is a printing press co-developed by a group of children aged 4 – 11 in after-school care at Oliver Goldsmith Primary School, Camberwell and OOMK. The collective, which convenes every Tuesday afternoon during term-time, creatively and critically explores personal and local narratives through a range of DIY publishing techniques.