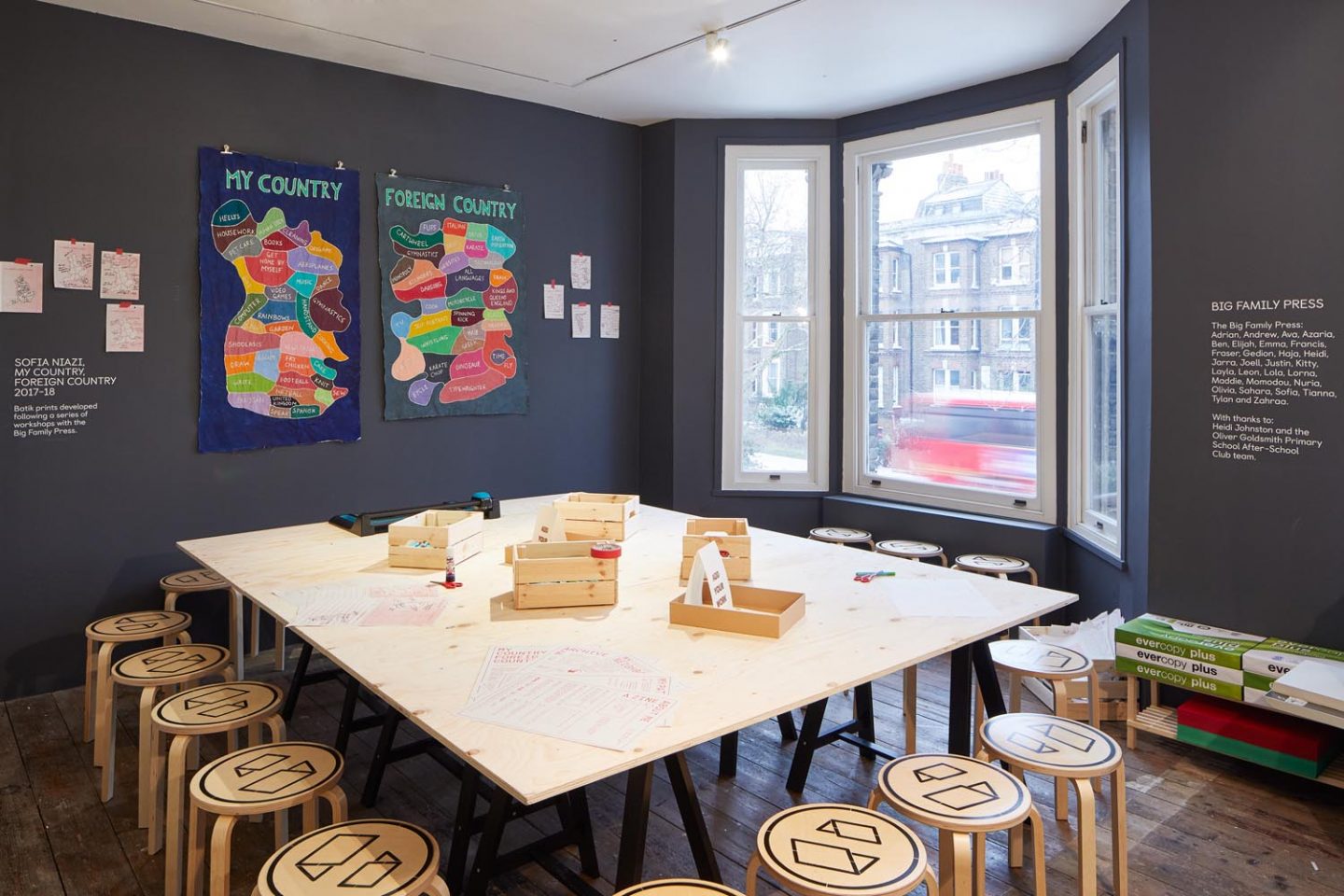 Free exhibition
First Floor Gallery
The First Floor Galleries are transformed into an archive and community printing press from 28 February – 11 March 2018. Through a range of critical and creative activities, children and adults are encouraged to use a risograph printing press and other DIY publishing tools available in the space to share their knowledge, experiences and stories, contributing to an archive which will evolve over the course of the exhibition. The exhibition and printing press have been co-developed over six months with OOMK and children aged 4 – 11 in after-school care at Oliver Goldsmith Primary School as part of the South London Gallery's new critical heritage programme, Evidence of Us.
BIOGRAPHY
One of My Kind (OOMK) is a collaborative publishing practice led by Rose Nordin, Sofia Niazi and Heiba Lamara. Working together since 2014, OOMK make, publish and distribute books and printed works which arise from self-initiated projects. OOMK also commission new works by women artists and co-curate DIY Cultures, one of the UK's largest annual independent publishing fairs. With a focus on self-publishing and education, OOMK founded and run a community Risograph printing press in East London, Rabbits Road Press. OOMK have been in residency at Oliver Goldsmith Primary School since September 2017 as part of the South London Gallery's Evidence of Us programme.
Sofia Niazi is an artist and illustrator working and living in London. She completed an MA in illustration at Kingston University. As part of OOMK, she currently runs a community risograph print studio in Newham, Rabbits Road Press, with studio mates Rose Nordin and Heiba Lamara. She employs various digital and hand drawn techniques in her work and explores themes relating to technology, politics and animals.
The Big Family Press is a printing press co-developed by a group of children aged 4 – 11 in after-school care at Oliver Goldsmith Primary School, Camberwell and OOMK. The collective, which convenes every Tuesday afternoon during term-time, creatively and critically explores personal and local narratives through a range of DIY publishing techniques.