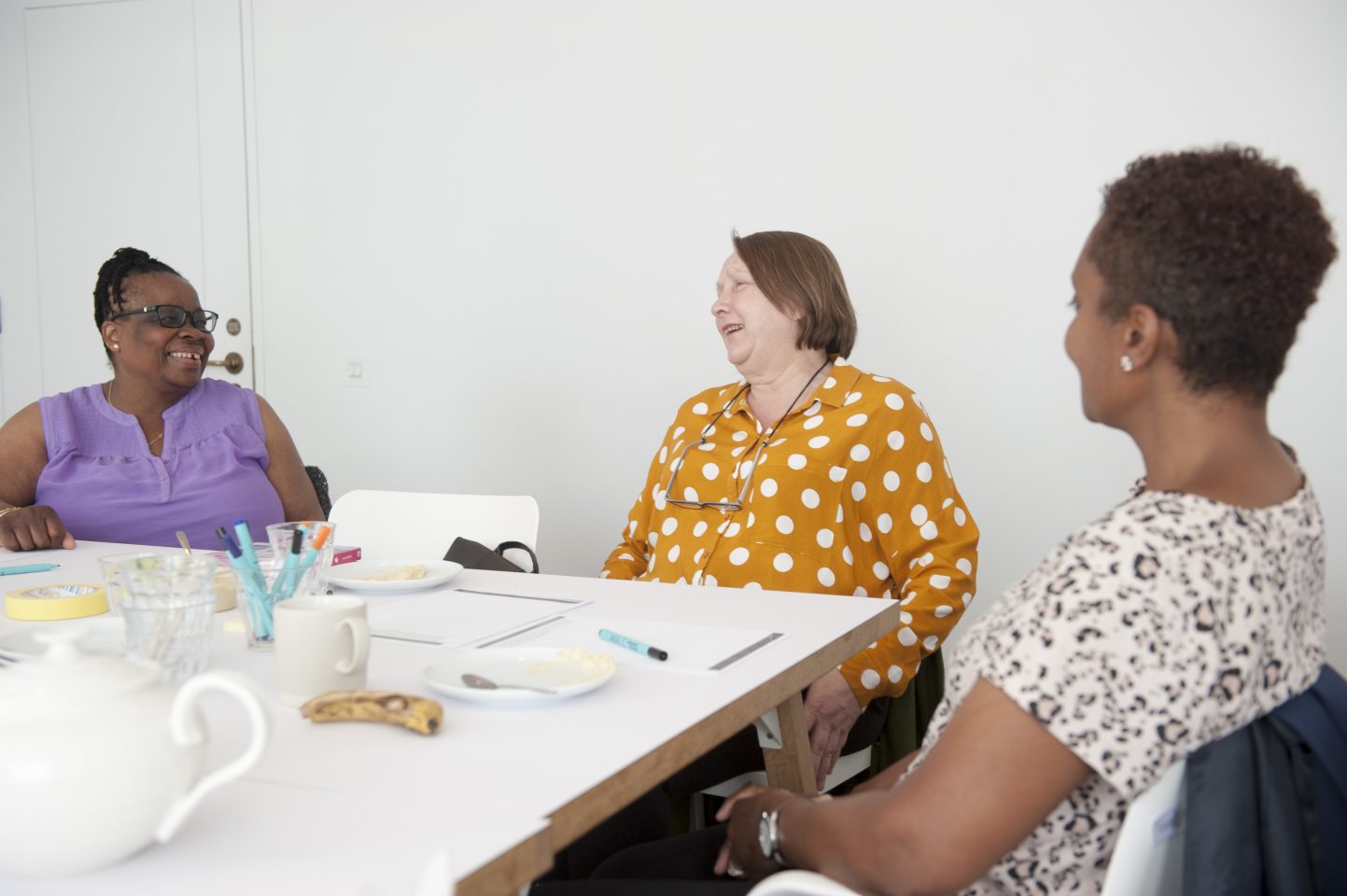 What role do artists and programme curators have in the development of social work training and practice? How can social work practice feed into the development of socially engaged arts commissions (and vice-versa)? What are the conditions we need to create mutually beneficial relationships between social workers, artists, arts institutions and care families?
This roundtable discussion brings together practitioners and researchers from the arts, academia and social work sectors to explore the relationship between social work and arts practices. They discuss both new and established projects and ways of working across different sectors, and ask how creative and social work practitioners can work and learn together in a time of increased need for local responsibility and cross-sector communication.
Members of the public are invited to join the roundtable, to share process, practice and possibilities for the future.
PANELISTS
Dela Anderson has worked as a Gallery Assistant at PEER and supported the delivery of New Town Culture projects, working with children and young people leaving care. She is currently a Campaigns Coordinator and supports grassroots advocates working to end poverty globally.
India Harvey is an artist and playworker who has worked on the SLG's Supersmashers project for looked after children as both an artist and manager. Recently, India has worked as an artist with the Tate Schools and Teachers team; on Get The Message, a project for young people with disabilities at Camden Arts Centre; co-created Squish Space, an under-5s play project at Barbican; and is currently developing work at MKAC around integrating playwork and artistic practice with the work of parents, youth workers and developmental therapists in Milton Keynes.
Tom Henri studied sociology, social policy and social work at the University of Southampton. He then worked as a social worker, youth justice worker and a social work educator before taking up a lectureship at Goldsmiths, University of London.
Jahzel Newell-Marshall is Residents' Programme Assistant at the South London Gallery. Since 2017, she has been the lead member of the Art and Play team working on Supersmashers. She has worked with numerous visiting artists on commissions in collaboration with local residents at the SLG over the past 6 years.
Siobhan Ray is a social worker working in  Southwark's Looked After Children service. Before qualifying, Siobhan studied English at UCL, then worked in charities that used community-based and trauma informed approaches to support children and families.
Marijke Steedman is an independent curator and consultant, currently developing the New Town Culture programme, a project with Barking and Dagenham Council, Serpentine Galleries and Goldsmiths University, exploring the links between art and social care practice. Previously Marijke was a curator at Create London, where she led on projects such as The White House in Dagenham, Rabbits Road Institute in Manor Park and The Idol by Marvin Gaye Chetwynd in Barking. Previously she was Curator: Community at Whitechapel Gallery.
ABOUT
This event is programmed as part of Who Cares: Stories of Looking After Children in Southwark.
ACCESS
Chairs with back rests are available.
The event takes place on the second floor which is accessible via a lift or stairs.
Ear plugs, ear defenders, magnifying glasses and wheelchairs are all available.
For more information on access at the SLG please click here.