The South London Gallery's contemporary art collection contains 145 works spanning from the 1970s until now. Much of the contemporary collection was acquired in the 1990s when the SLG began to collect contemporary works by artists such as Tracey Emin and Gavin Turk. 
Over the past ten years acquisitions for the collection have mainly focused on major site-specific works around our buildings, such as Paul Morrison's Asplenium, 2010, in our café; The Orozco Garden, 2016 by Gabriel Orozco; and Lawrence Weiner's AT A DISTANCE TO THE FOREGROUND, 1999, on the outside of the Fire Station. Currently we are fundraising to be able to acquire more work by emerging and established artists with connections to south London and the SLG. Although we don't have collections on permanent display at the South London Gallery, we do lend works out to other institutions and occasionally show a small number of works in various locations across our buildings. In the future we plan to organise small exhibitions of works from the collection to tour to galleries and community venues.
In June 2023, the National Portrait Gallery in London reopens to the public following a major building project. To celebrate the opening, and to mark International Portrait Day on 23 June, we picked out some portraits from our contemporary collection.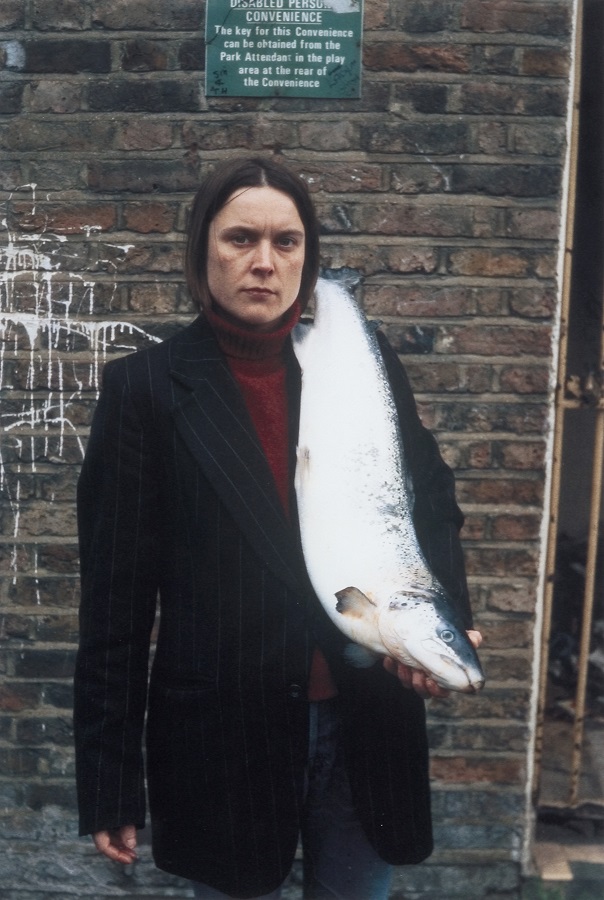 Sarah Lucas, Self-Portraits 1990-1999 
Sarah Lucas's work challenges ideas about the female body in mainstream culture and art. Her often humorous self-portraits in the South London Gallery collection were taken throughout the 1990s. They reflect changes in thinking around gender, identity and sexuality.  
In the photos, Lucas also addresses her own negative feelings about her 'masculine' appearance.  She says: "I suddenly could see the strength of the masculinity about it – the usefulness of it to the subject struck me at that point, and since then I've used that".  
She often stares into the camera lens, directly engaging with the viewer. She is fascinated by human interest in both sex and death. In Eating a Banana, 1990 she pokes fun at traditional female roles in pornography. In Got a Salmon On #3, 1997 the artist stands with a huge salmon, a play on the idea of a female erection.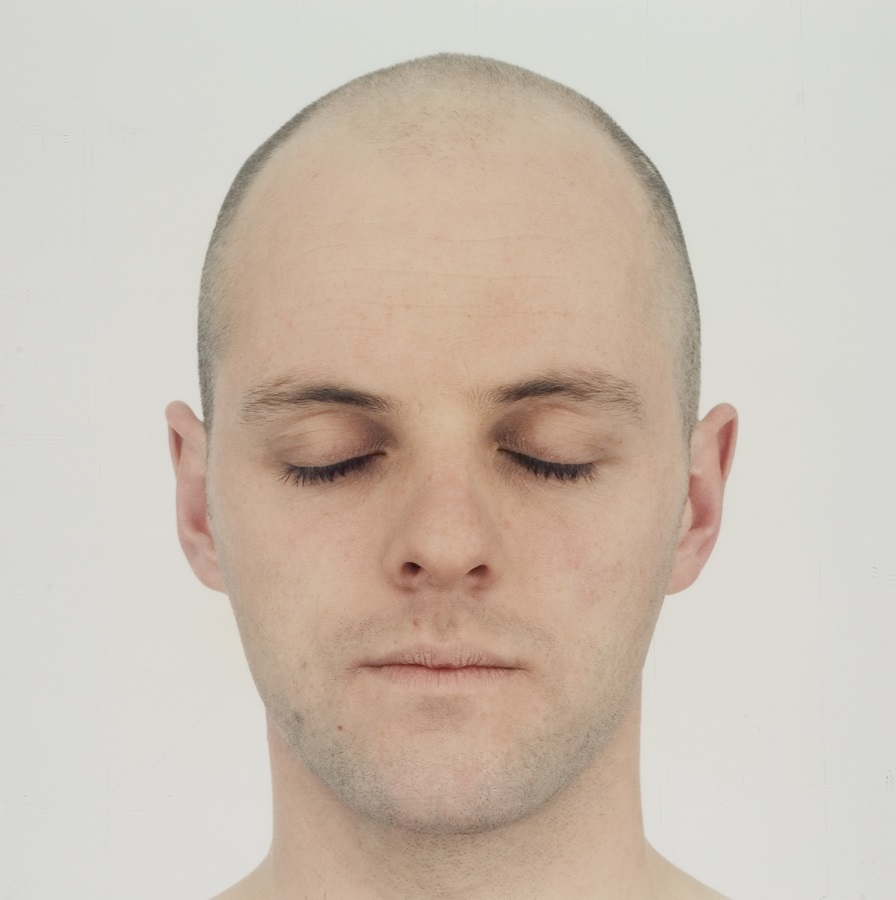 Gavin Turk, Portrait of Something I'll Never Really See, 1997 
Gavin Turk's work explores the value of authorship, originality and authenticity. Portrait of Something that I'll Never Really See, 1997 also examines the self-conscious creation of the 'myth' of the artist.  
The self-portrait presents Turk with his eyes closed. Although Turk came up with the concept for the work, the photograph was taken by artist Anthony Oliver. The image is larger than life, allowing visitors to examine Turk's face in intimate detail. However, with his eyes closed and no expression, he gives very little away. Even with this intimate access to his face, you learn very little about the artist. Turk remains a mystery.
He says: "I was trying to make a piece of work that was simple and only a fraction away from an ordinary picture. I tried hard to appear without expression, leaving my eyes closed so they became the focus of the picture. The eyes act as a full stop. In the title, the word 'really' gives away the vagueness of the picture and the way self-portraiture works."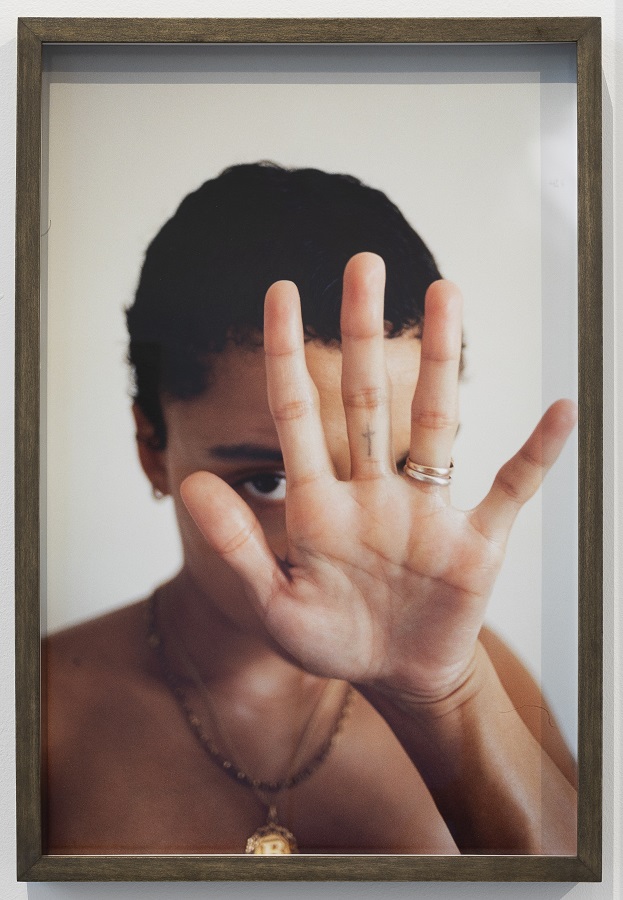 Rene Matić, Rene at Home, 2022 
Rene at Home, 2022 is one of the newest works to join the South London Gallery collection. Matić's work explores the complexities between queerness, race and working-class culture in Britain. It is often raw and exposing, sharing a lot of personal, quiet moments with viewer. 
This photo is from their series flags for countries that don't exist but bodies that do (2018-ongoing). This series is a personal diary documenting Matić's community and family (chosen and otherwise), as well as a portrait of contemporary Britain.   
Rene at Home touches on themes of family and faith. They cover their face with their hand, sharing a crucifix tattoo with the viewer.  
Matić says: "To crucify a body is to render that body un-useful – to take the life from a body whilst holding that body as a signifier for life. It is the representation of birth and death, reinvention, and liberty. I have used this symbol before. It has been helpful to appropriate it from white skinhead culture and use it in opposition to the right-wing co-option as a metaphor for the exhausted Black British body, and that still stands here."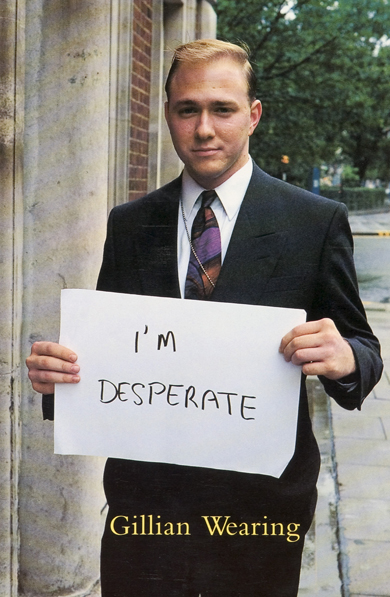 Gillian Wearing, I'm Desperate, 1997 
I'm Desperate is part of Gillian Wearings series of photos titled Signs That Say What You Want Them To Say and Not Signs That Say What Someone Else Wants You To Say. These photos show members of the public holding up hand-written signs that reveal their private thoughts and feelings.  
Gillian Wearing is known for powerful film, video and photo works that explore ideas around personal identity. She is influenced by reality TV, theatre and documentaries and regularly features real people in her work. For Signs, Wearing interviewed over 500 people on the streets of London. This was the first time that she featured strangers, instead of herself or people she knew, in her work. The signs were brutally honest, real and sometimes funny. Wearing showed that every person has something interesting and unique to say.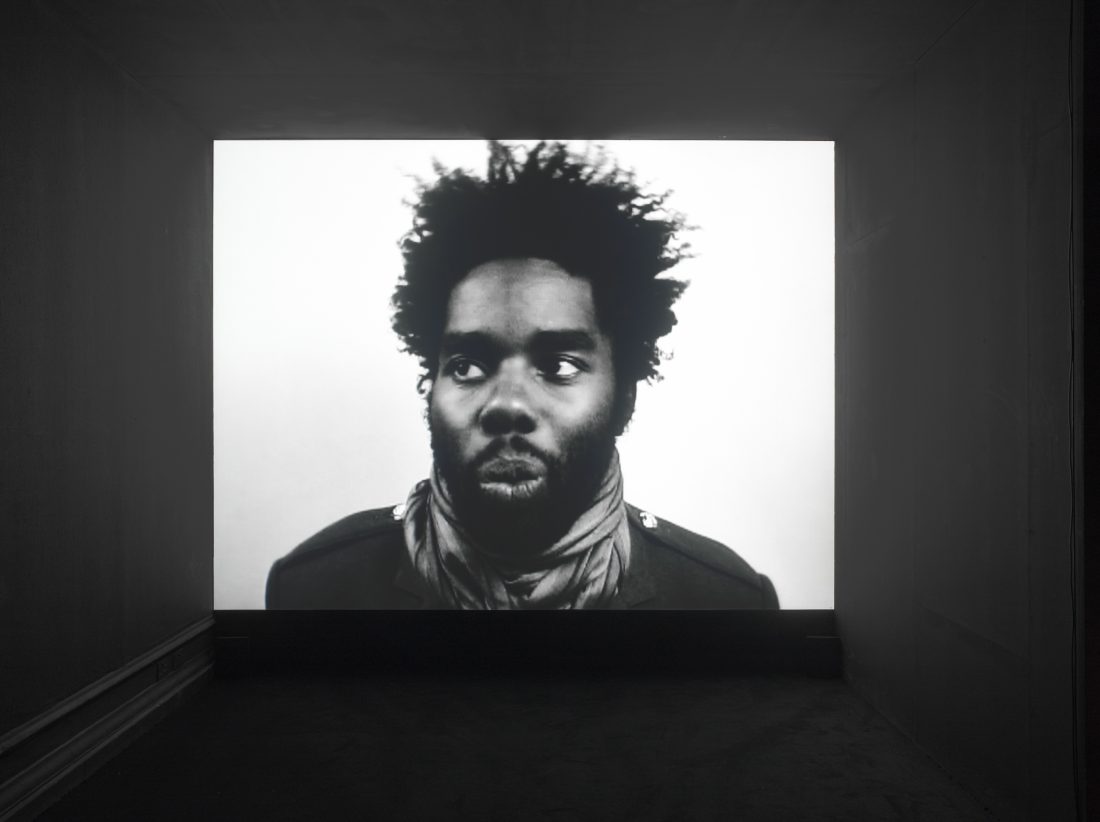 Iain Forsyth and Jane Pollard, Anyone else isn't you, 2005 
Anyone else isn't you, 2005 is an unscripted video work of 14 young people talking about love and loss. They speak directly to camera about personal experiences, memories and the importance of music in relationships. The title of the work is taken from a song released in 1990 by British indie rock band The Field Mice about longing, heartbreak and loneliness. 
They were invited by the artists to talk about their favourite 'mixtapes', which eventually leads to more personal confessions and stories.
The work acts as a sort of time capsule for youth culture in the 1980s and 90s and the lost practice of making carefully curated cassette mixtapes. Although the thoughts shared are private and specific to the individuals involved, the desire to communicate is a common thread. Many of the young people stress the importance of making connections with others through the music they love and share.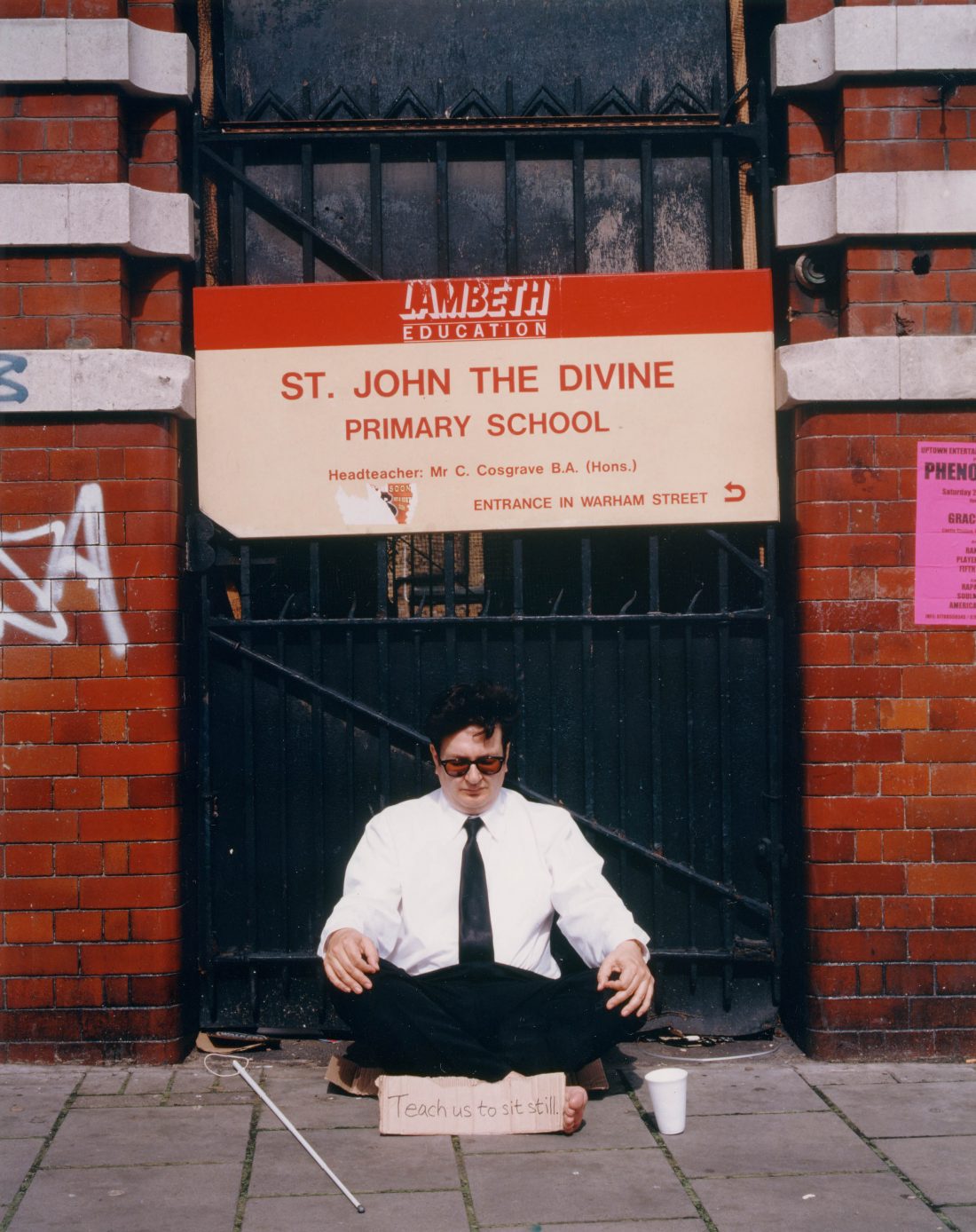 Mark Wallinger, The Word in the Desert III, 2000 
Mark Wallinger questions ideas around national identity, class and tradition. Since the late '90s his work has engaged with the meaning and purpose of religious belief.  
The Word in the Desert III, 2000 features the artist's blind alter-ego 'Blind Faith'. Here he sits cross-legged at the old entrance of a closed primary school on Camberwell New Road. A cardboard sign reads, 'Teach us to sit still'.  Appearing as both Buddha and beggar 'Blind Faith' displays many contradictions. He represents faith and doubt, perception, illusion and how representation can be constructed.  
Wallinger is playing a part when he appears as 'Blind Faith', but 'Blind Faith' also takes on many roles. Across many of Wallinger's works, 'Blind Faith' appears as a demon, Buddha, mythical hero, vampire, child, preacher, fraud, pupil, murderer, mourner, judge and more.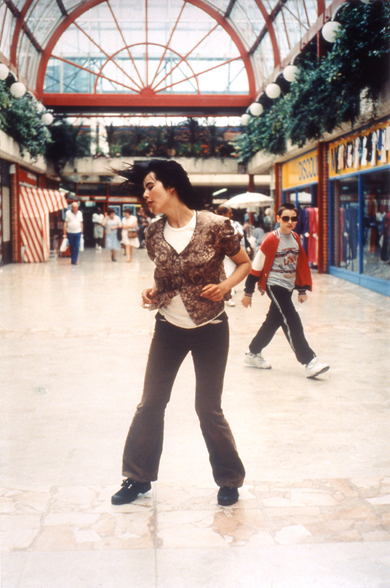 Gillian Wearing, Dancing in Peckham, 1994
Gillian Wearing often explores ideas of what is considered normalised behaviour and conflicts between private and public life. For Dancing in Peckham, the artist filmed herself dancing in a shopping centre in south London, to the bewilderment or indifference of passers-by. She claimed that she danced to the music of Nirvana and Gloria Gaynor playing in her head.
Wearing says "There are some things you can't ask of the public… For instance, the original idea for 'Dancing in Peckham' stemmed from seeing this woman dancing wildly in the Royal Festival Hall. She was completely unaware that people were mocking her… Asking her to be in one of my videos would have been patronising, so I decided to do it myself."